Order a free home care pilot!
We offer you an opportunity to test and discover the functionality and cost efficiency of the 9Solutions home care service platform and safety devices during a free trial period.
We offer the following system completely free of charge to your disposal for a period of six months:
10 pcs 9Solutions Care Phone with SIM cards
10 kpl 9Solutions Safety Wristband
10 kpl 9Solutions Intelligent exit management
9Solutions Smooth Call centre software for receiving and processing alarms
9Solutions Smooth Lite mobile application for safety helpers
Device installation
Deployment training and training material
24/7 technical support
In return, we request one hour each month of your time in the form of a feedback meeting. The offer doesn't apply to private persons.
Care phone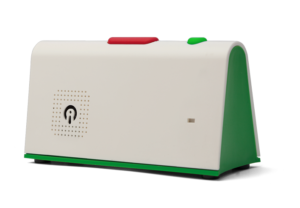 ​The 9Solutions care phone opens a two-way voice connection to a call centre or directly to the smartphone of a helper easily with a press of a button. The care phone also forwards a help request automatically if connected sensors, such as an activity sensor, detect a deviation in activity. The background system continuously monitors the care phone operation and notifies automatically in potential fault situations. All device settings, such as sound volume, can be managed remotely.
Safety wristband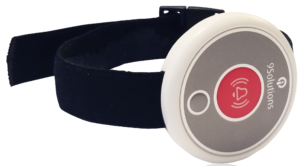 ​9Solutions turvarannekkeessa on näkyvä ja helposti sormella tuntuva kutsupainike jolla käyttäjä voi pyytää helposti apua nappia painamalla. Kutsupainikkeen painaminen avaa puheyhteyden tai lähettää apukutsun tilannekeskukseen tai suoraan 9Solutions Smooth Lite mobiilisovellukseen. Ranneke seuraa myös käyttäjän aktiivisuutta. Taustajärjestelmä valvoo jatkuvasti rannekkeen toimintaa ja ilmoittaa automaattisesti mikäli se vikaantuu tai paristo on loppumaisillaan.
Intelligent exit sensor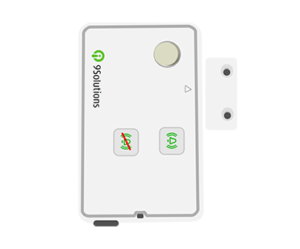 The intelligent exit sensor detects exiting and entering the apartment. Contrary to traditional door monitoring, the intelligent 9Solutions exit sensor alarms only if the person actually exits the apartment. This eliminates unnecessary door opening and closing alarms, check visits and costs. Furthermore, the system alarms only if the person doesn't return in the specified time, which lets the person go to the mailbox, for example.
Smooth call centre software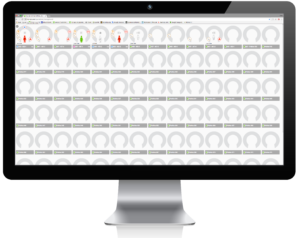 9Solutions Smooth is a cloud-based call centre software for receiving and managing home care safety alarms and service orders. The software displays the caller's information and home care operational picture in a map view, and forwards the alarm directly to a free helper. Home care device orders are easy to manage, report and monitor in the same user interface.
Smooth Lite mobile application for safety helpers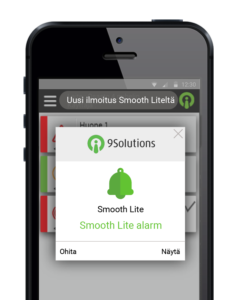 9Solutions Smooth Lite is a safety helper application for receiving help tasks and communicating as well as reserving and clearing alarms. The application displays the alarm on the map, and the nearest helper can reserve the task, which is automatically notified to the other helpers and the call centre. The helper can also open a voice connection to the customer's care phone with the application.